Seperti biasa, setiap di akhir tahun para gamer berkumpul untuk mengadakan suatu tradisi yang sudah lama diselenggarakan. Tradisi tersebut yang tak lain adalah The Game Awards yang merupakan ajang penghargaan untuk seluruh game yang berhak memenangkan nominasi game terbaik di bidangnya. Dengan acara yang sebentar lagi akan dimulai yakni tanggal 9 Desember mendatang, saat ini nominasi seluruh game sudah diumumkan secara resmi.
Sebagai info, nominasi ini nantinya akan dipilih berdasarkan voting. Dimana suara yang diambil 90% berasal dari para juri dan sisa 10% nya dapat diambil secara umum. Untuk bagian yang 10%, voting akan diadakan melalui sejumlah media sosial seperti Twitter, Facebook dan BiliBili dengan batas waktu hingga 8 Desember. Selain itu, terdapat juga beberapa nominasi khusus seperti aksesibilitas dan game olahraga dimana voting akan diselenggarakan melalui platform Discord atau melalui DM Twitter. Game yang masuk nominasi merupakan kumpulan game yang telah rilis secara umum sebelum 19 November, sehingga lewat dari tanggal tersebut tidak akan masuk ke dalam nominasi tahun ini.
Seperti biasa, sang kreator The Game Awards yaitu Geoff Keighley akan kembali mengisi sebagai pembawa acara. Event ini rencananya akan berlangsung di Los Angeles, Amerika Serikat, tepatnya di Microsoft Theatre. Tak hanya sebagai ajang penghargaan, event ini juga akan memberikan beberapa kejutan lainnya berupa pengumuman baru hingga pameran game dari para developer.
Best Performance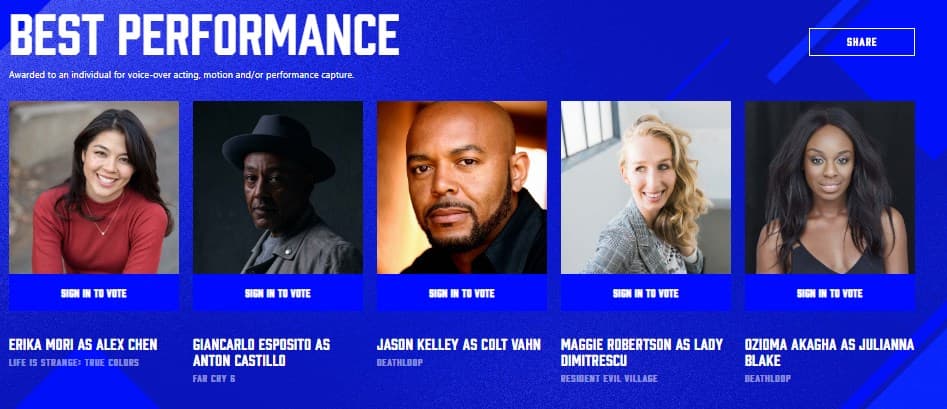 Erika Mori – Life is Strange: True Colors
Giancarlo Esposito – Far Cry 6
Jason Kelley – Deathloop
Maggie Robertson – Resident Evil: Village
Ozioma Akagha – Deathloop
Best Multiplayer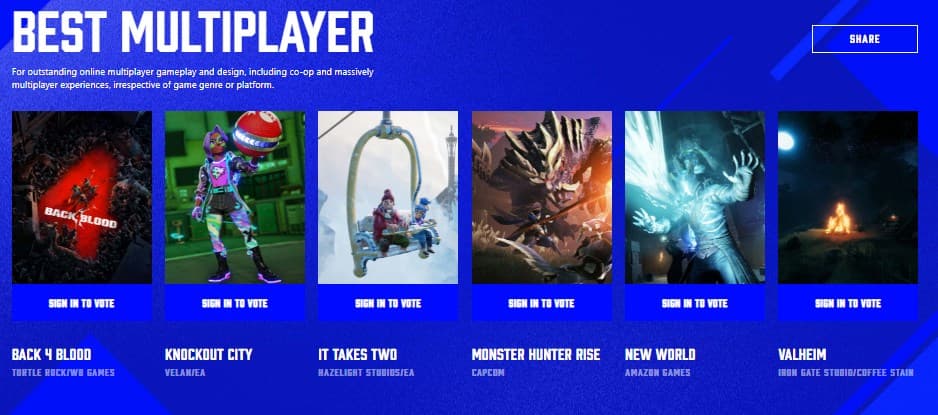 Back 4 Blood
Knockout City
Monster Hunter Rise
New World
It Takes Two
Valheim
Best Ongoing Game
Apex Legends
Call of Duty: Warzone
Final Fantasy 14
Genshin Impact
Fortnite
Best Art Direction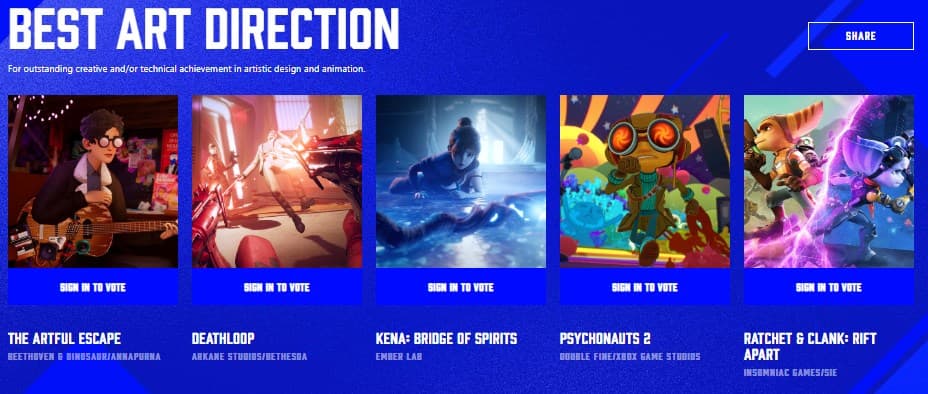 Deathloop
Kena: Bridge of Spirits
Psychonauts 2
Ratchet and Clank: Rift Apart
The Artful Escape
Best Score and Music
Cyberpunk 2077
Deathloop
Nier Replicant: ver. 1.22474487139
Marvel's Guardians of the Galaxy
The Artful Escape
Audio Design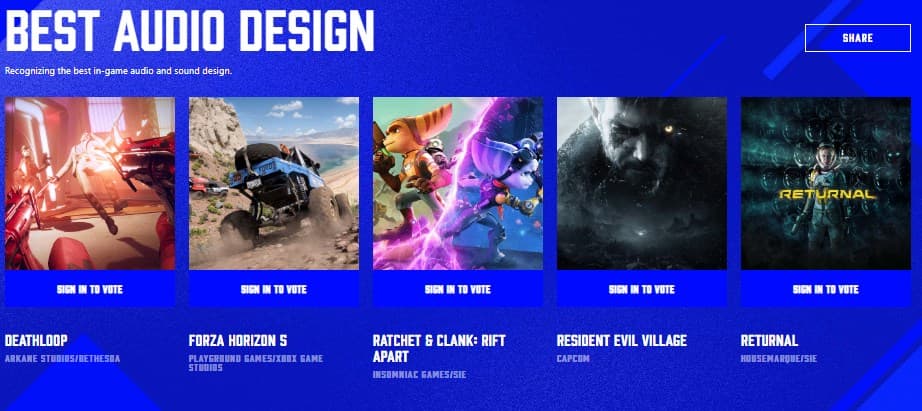 Deathloop
Forza Horizon
Ratchet and Clank: Rift Apart
Resident Evil: Village
Returnal
Innovasion in Accesibility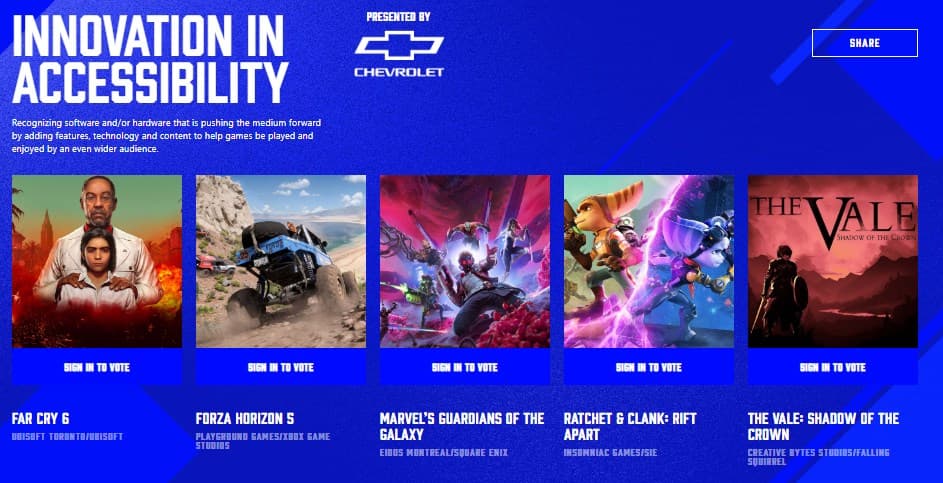 Far Cry 6
Forza Horizon
Marvel Guardians of the Galaxy
Ratchet and Clank: Rift Apart
The Vale: Shadow of the Crown
Best Narative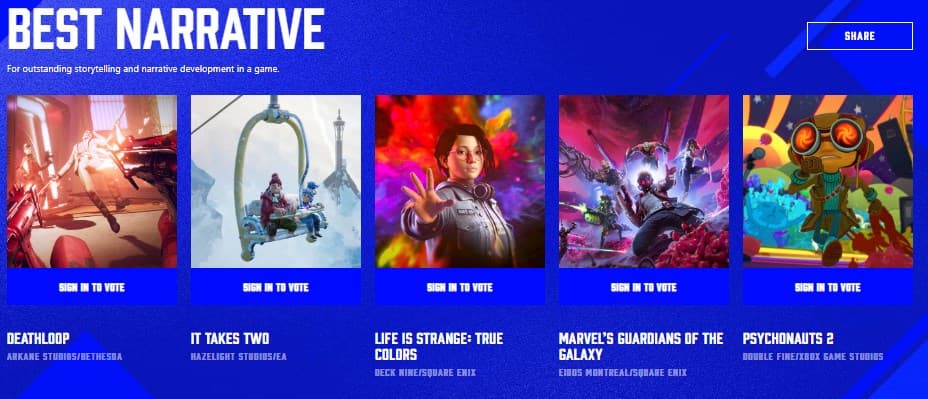 Deathloop
It Takes Two
Life is Stange: True Colors
Marvel's Guardians of the Galaxy
Psychonauts 2
Games for Impact
Before Your Eyes
Boyfriend Dungeon
Chicory: A Wonderful Tale
Life is Strange: True Colors
No Longer Home
Best Indie Game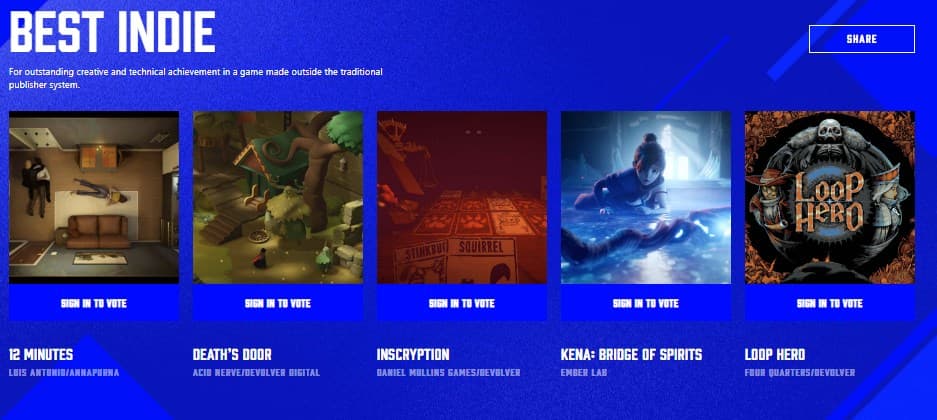 12 Minutes
Death's Door
Kena: Bridge of Spirits
Inscryption
Loop Hero
Best Mobile Game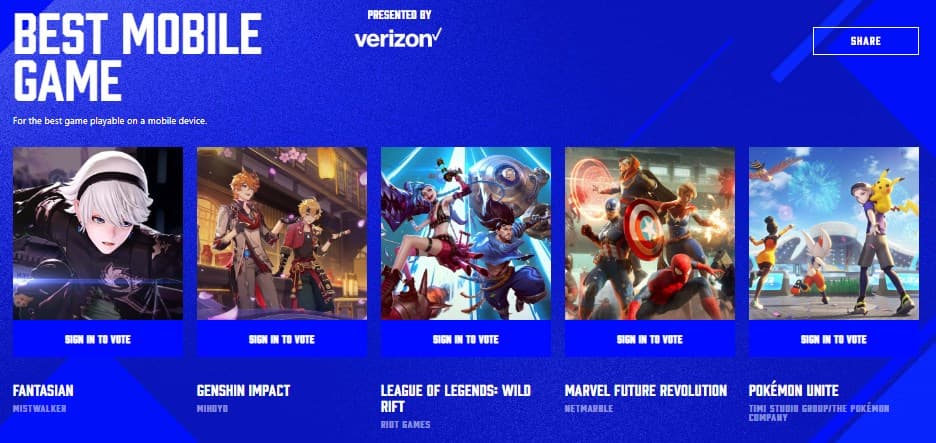 Fantasian
Genshin Impact
League of Legends: Wild Rift
Marvel Future Revolution
Pokemon Unite
Best Community Support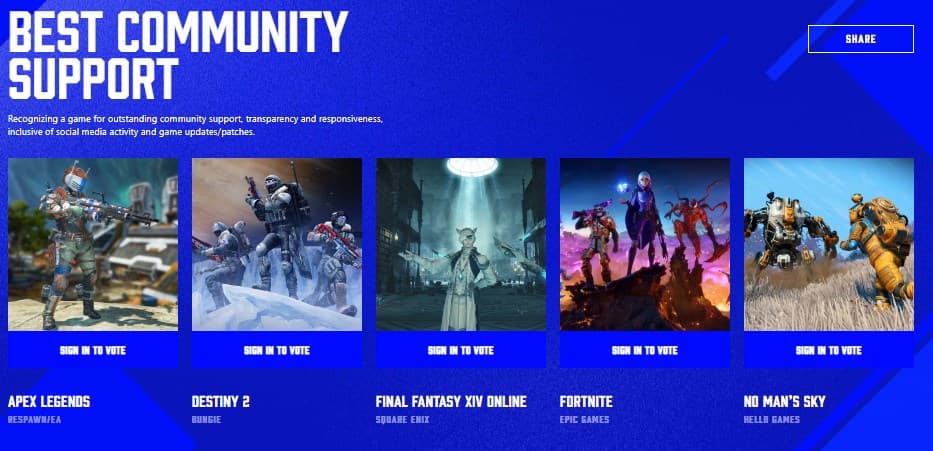 Apex Legends
Destiny 2
Final Fantasy 14
Fortnite
No Man's Sky
Best Debut Indie Game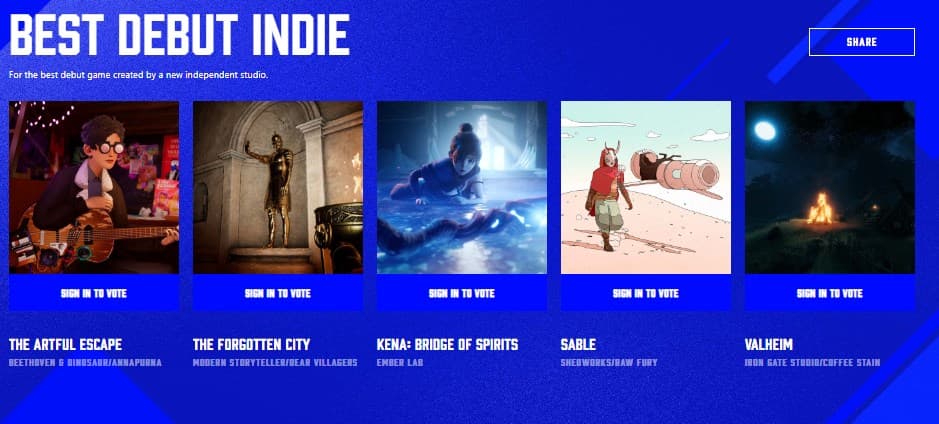 Kena: Bridge of Spirits
Sable
The Artful Escape
The Forgotten City
Valheim
Best VR/AR Game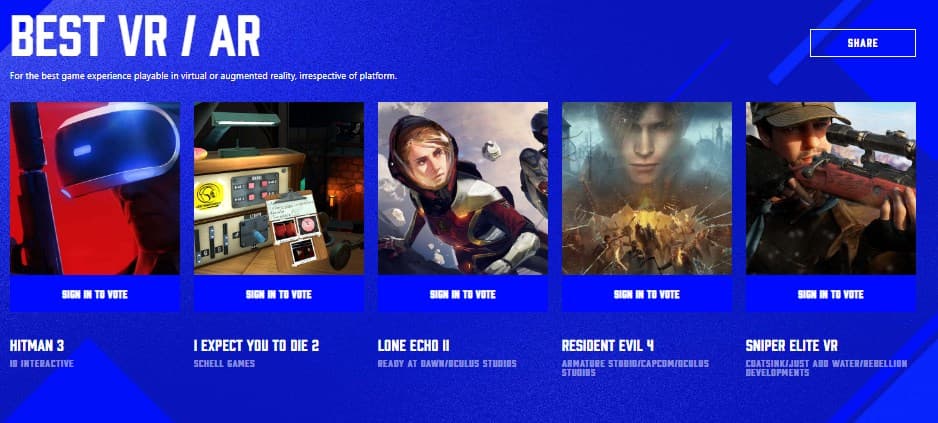 Hitman 3
I Expect You To Die 2
Lone Echo
Resident Evil 4 VR
Sniper Elite VR
Content Creator of the Year
Dream
Fuslie
Gaules
Ibai
Grefg
Best Action Game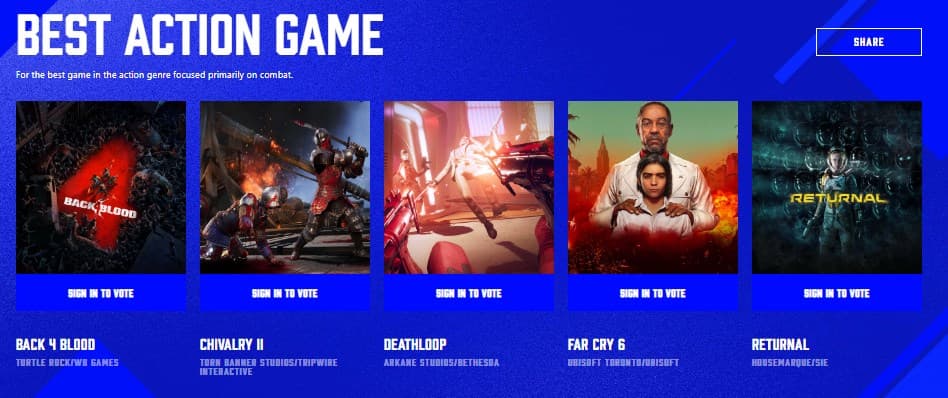 Back 4 Blood
Chivalry 2
Deathloop
Far Cry 6
Returnal
Best Action/Adeventure Game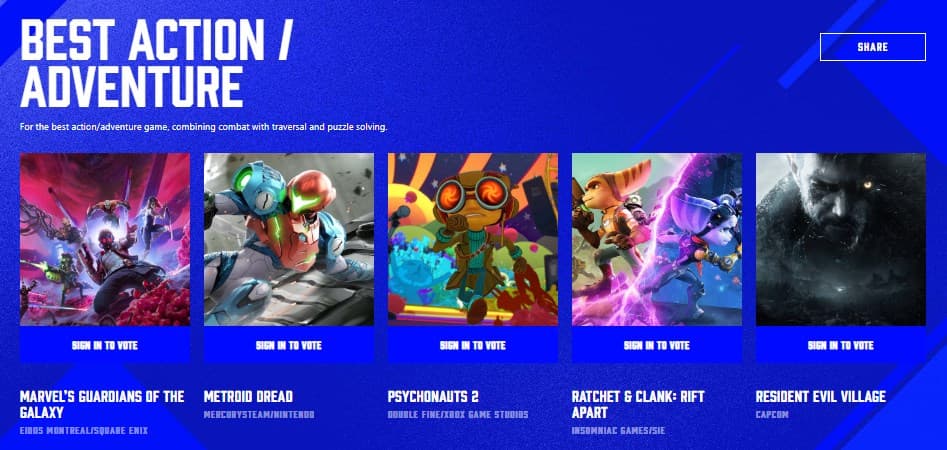 Marvel Guardians of the Galazy
Metroid Dread
Ratchet and Clank: Rift Apart
Resident Evil Village
Psychonauts 2
Best RPG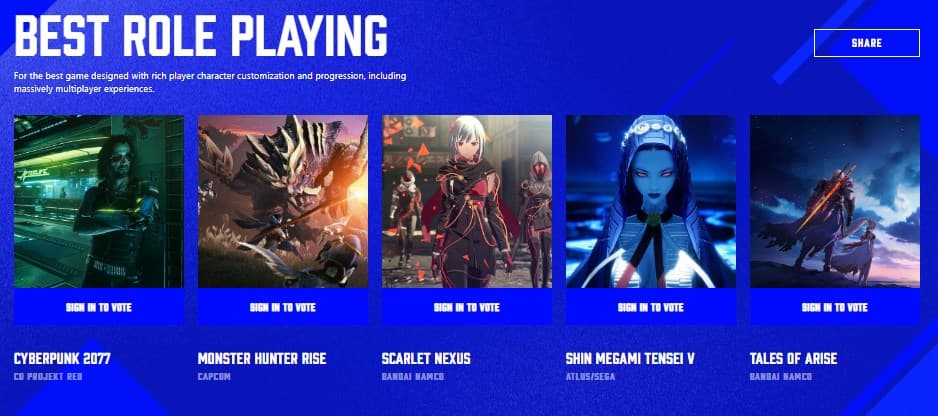 Cyberpunk 2077
Monster Hunter Rise
Scarlet Nexus
Shin Megami Tensei 5
Tales of Arise
Most Aniticapted Game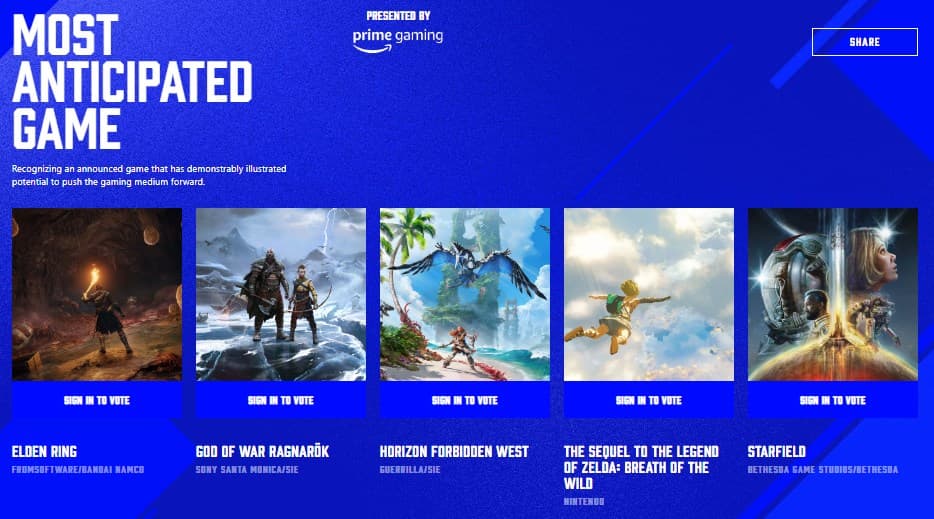 Elden Ring
God of War: Ragnarok
Horizon Forbiden West
The Sequel to The Legend of Zelda: Breath of the Wild
Starfield
Best Fighting Game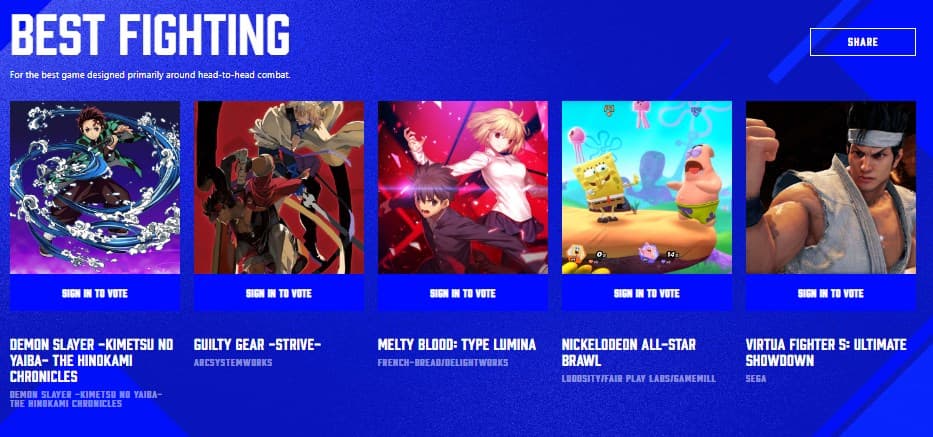 Demon Slayer: The Hinokami Chronicles
Guilty Gear Strive
Melty Blood Type Lumina
Nickelodeon All Ssar Brawl
Virtua Fighter 5 Ultimate Showdown
Best Family Game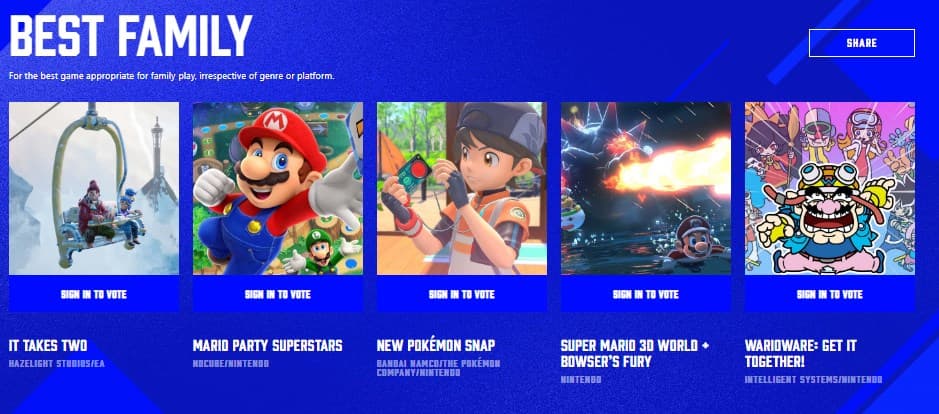 It Takes Two
Mario Party Superstars
New Pokemon Snap
Super Mario 3D World + Bowser's Fury
Wario Ware: Get It Together
Best Simulation/Strategy Game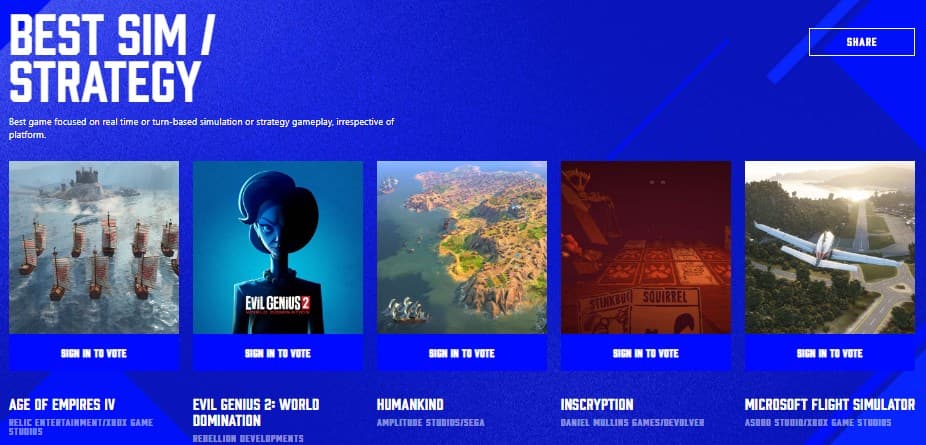 Age of Empires 4
Evil Genius 2: World Domination
Humankind
Inscryption
Microsoft Flight Simulator
Best Sports/Racing Game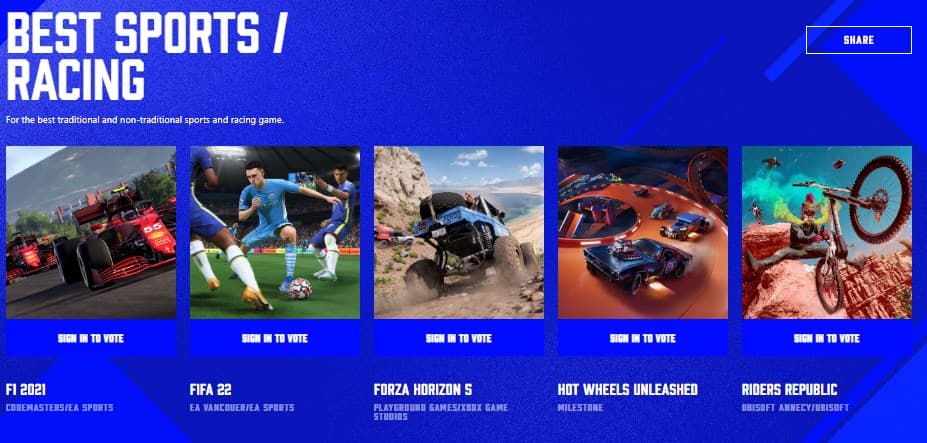 F1 2021
FIFA 22
Hot Wheels Unleashed
Forza Horizon 5
Riders Republic
Best Esports Game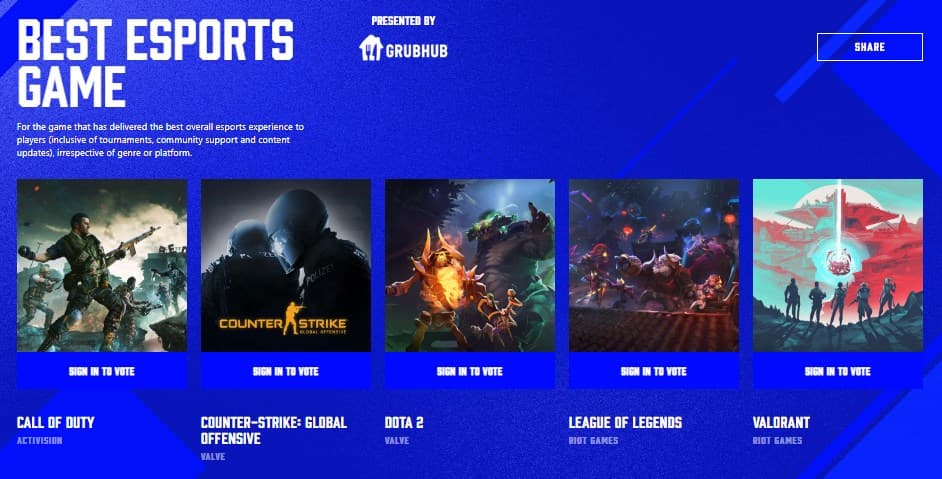 Call of Duty
Counter-Strike: Global Offensive
DOTA 2
League of Legends
Valorant
Best Esports Athlete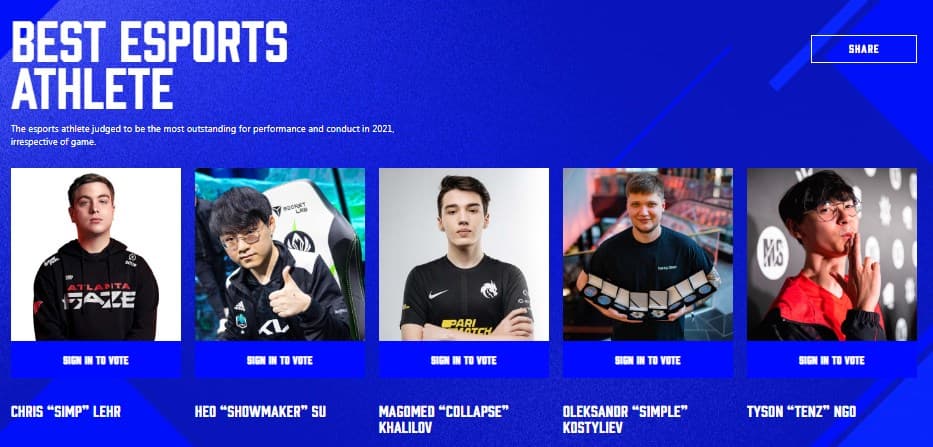 Collapse
Simple
Showmaker
Tenz
Simp
Best Esports Team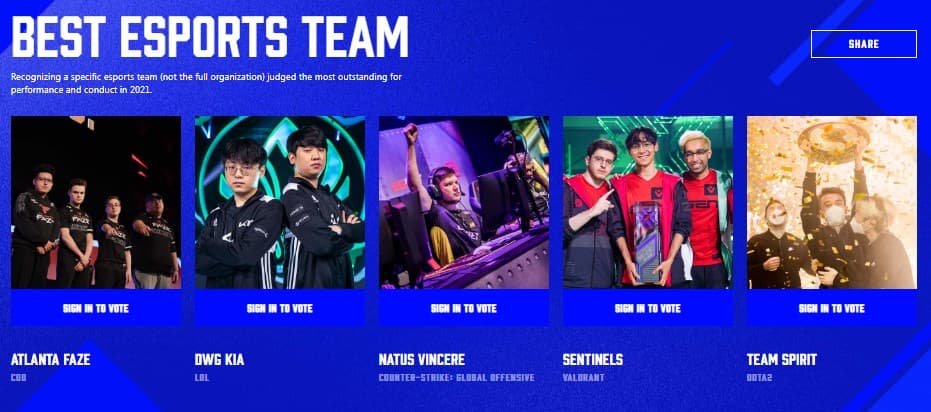 Atlanta Faze – Call of Duty
DWG KIA – League of Legends
Navi – CS:GO
Team Spirit – DOTA 2
Sentinels – Valorant
Best Esports Coach
Andrii "B1AD3" Horodenskyi
James "Crowder" Crowder
Andrey "Engh" Sholokhov
Kim "KKoma" Jeong-Gyun
Airat "Silent" Gaziev
Best Esports Event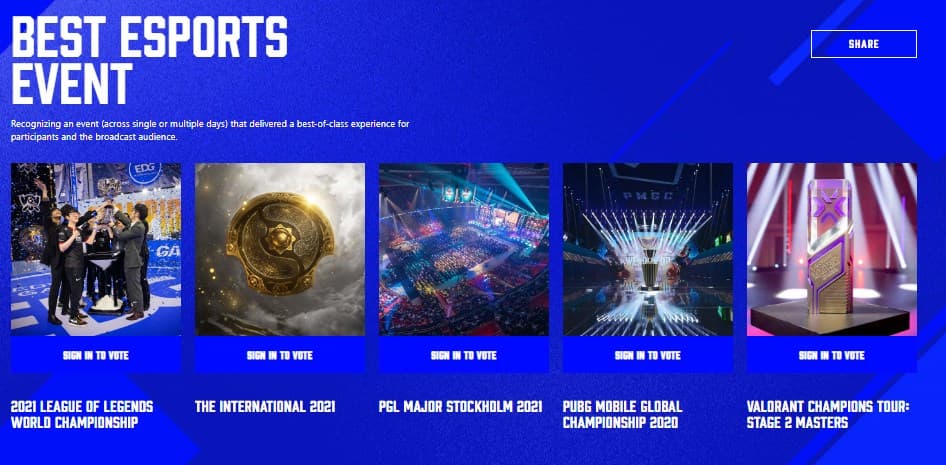 The International
2021 League of Legends World Championship
Valorant Champions Tour Stage 2 masters
PGL Major Stockholm
PUBG Mobile Global Championship 2020
Best Game Directon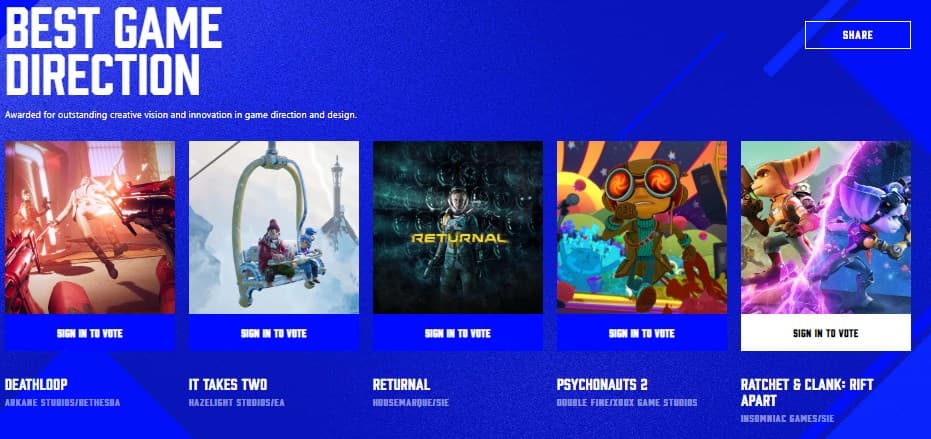 Deathloop
Psychonauts 2
It Takes Two
Returnal
Ratchet and Clank: Rift Apart
Game of the Year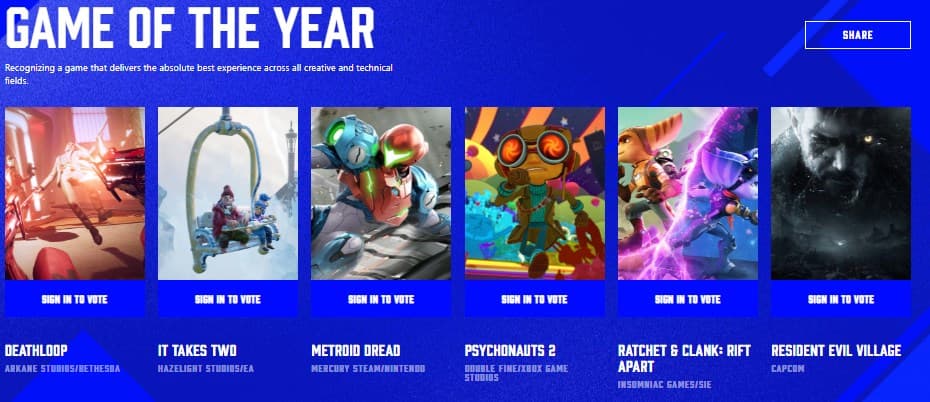 Deathloop
It Takes Two
Metroid Dread
Psychonauts 2
Ratchet and Clank: Rift Apart
Resident Evil: Village
Dari nominasi diatas, dapat disimpulkan bahwa The Game Awards tahun ini didominasi oleh game Deathloop, dimana game mendapatkan menduduki 9 dari 30 nominasi. Kemudian diikuti oleh Ratchet and Clank: Rift Apart yang meraih 6 nominasi serta It Takes Two dan Psychonauts yang menduduki 5 nominasi. Perlu diingatkan kembali bahwa rencananya penyelenggaraan The Game Awards 2021 siap dilaksanakan mulai bulan depan, tepatnya tanggal 9 Desember 2021. Apabila kalian tertarik ingin berpartisipasi memberikan suara dapat mengunjungi situs resmi The Game Awards melalui link berikut.